Italian Rottweiler Import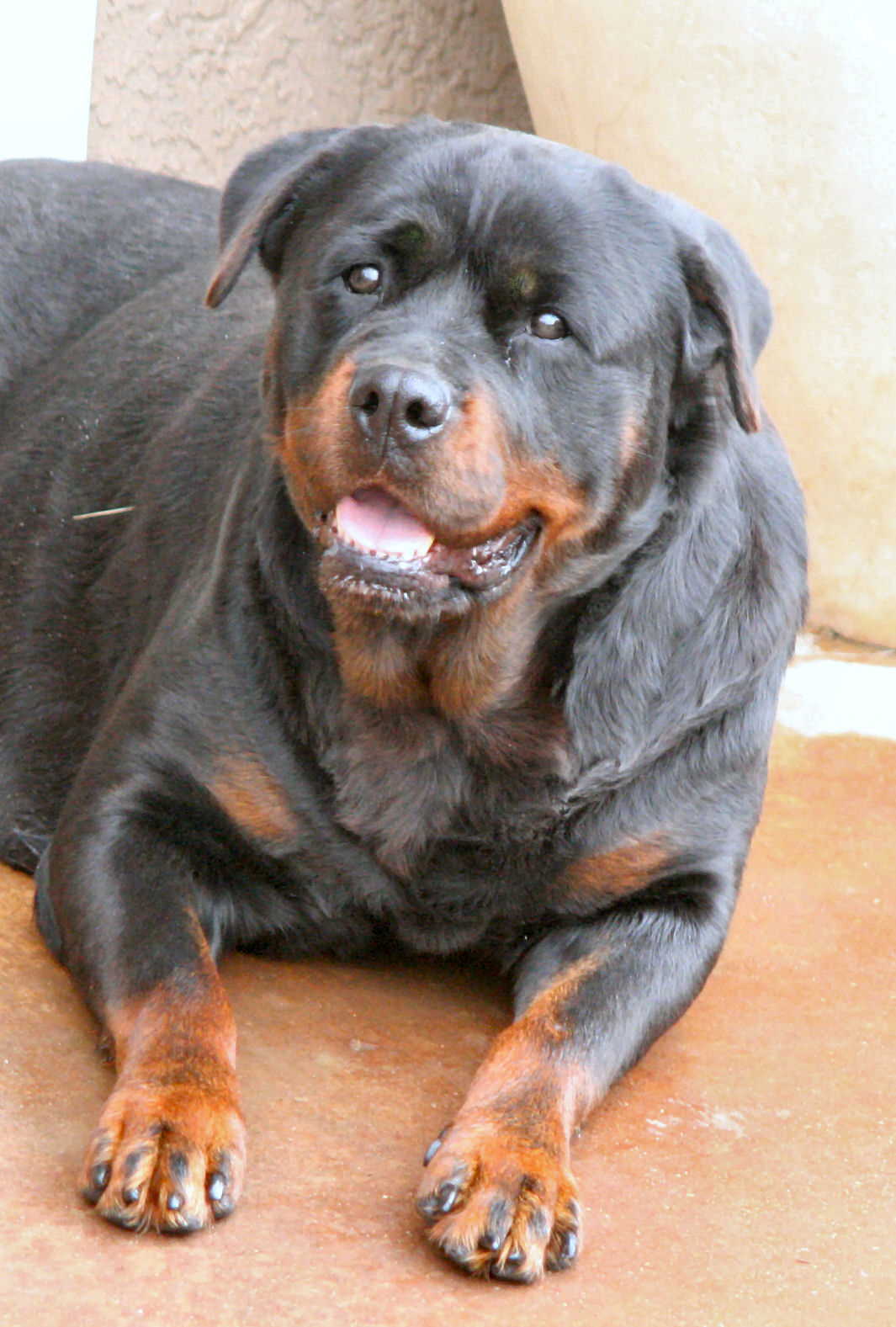 (Click On Picture For More)
Multi V1 including Rottweiler Specialty Show, r.CAC, Italian Import, ED-0, HD-B
Retired
We are very pleased to announce the acquisition of Multi V1, r.CAC Queen del Re di Spade (Italian Import), an Akino vd Lauterbrucke daughter and arguably one of the most beautiful and strongest, she shares a resemblance of her father in the picture below, very much alike. Queen brings substantial size and exceptional weight 64cm(25")/52kg(114#)
We would like to personally say "Thank You" to Bruno Amendola of Brukroft Kennels, Canada for providing us this exceptional acquisition and breeding.
To say this female is anything short of absolutely gorgeous is an understatement. Her temperament is so easy going and stable, she is a very wonderful and easily managed girl. The first thing you notice about Queen is how incredibly thick she is, much like Petra Earl Antonius. Next, you notice her incredibly beautiful deep red mahogany markings that simply glow. Queen is a great compliment to our kennel with respect to bringing very strong bone strength and an exceptional headpiece which our kennel has become well known for with our girls. 1A eye color, rich black mouth, scissor bite, strong cheek bones and eye fill with substantial stop and a nice small ear.
A powerful top line and correct tail set with a beautiful neckline transition is complimented on her impeccable gait. Her chest is so thick and powerful, underlines are deep and very full with a very broad and very well sprung rib cage. Her rear end is super wide and flat with monstrously thick thighs and the nicest, small tight feet.
Queen's pedigree boasts shear excellence from all around the world. Queen's sire is the legendary producer, Akino vd Lauterbrucke, a dog known for producing exceptional type and temperament and hailing from the famous A-Litter (Asco, Akino, Andro)of Lauterbrucke. Behind that is something I like a lot, the doubling up of Face vd Teufelsbrucke, full sister to one of the greatest producers of bone strength and head type, Ferro vd Teufelsbrucke. Throw in legendary producers Matcho v Burgthann and Torro v Zimmerplatz, you can easily see why Akino has been such a dominate producer of excellence.
Queen's dam is the 1998 Europa Siegerin Efrem, full liter sister to one of Italy's legendary rotts Eduard. Eduard is known not only for his size and beauty but, a dog that was also very well known in the work. Behind them continues the true history of Italy's finest Rotts in Reproducing Champions and behind that is Germany's finest in working and type producers. Queen is 3/3 on the brothers Iwan and Ingo v Fusse der Eifel, they make incredible bodies and rib cage width. You will find Iwan in our Cora's pedigree also. Falko v Gruntenblick is renowned for that great bone strength and Queen is 3/4/4 on him and strongly projects that great bone production. Italy has quietly and continually making incredible Rotts of substance and working temperament : most notably is the high degree of eye color and pigmentation. The bottom side of Queen's pedigree is filled with Rotts as great as her topside including some lesser seen great dogs: WS'86, Ch. Mondiale, Ch RCI, IntCh, Italian Ch Gioia v Markgraflerland SchHII, ZtPR, ES'85, KS'85, IntCh,VDH-Ch Yvonne v Markgraflerland SchHIII, ZtPR, Dutch Ch, IntCh, Netherland KS'82'83'84 Duuck vd Nedermolen SchHIII, IPOIII, Gek, BIS, BSgr '85 Ria v Echterdingen SchHI, AD, ZtPR, '88 USRC National Siegerin Olga v Echterdingen SchHII AD.
Producing: Queen delivers with beauty, power, bone, width, thickness and great head pieces. Beautiful pups is an understatement. Thick, heavy bone, outgoing, stable, square are just a few words to describe he offspring. Her last litter with us, the two males at 4 months where each pushing 55 pounds plus and that was with ribs showing. Powerful builds, very wide rear ends and shoulder girdles...head pieces wherevery blocky with great ear sets and black eyes and mouth pigment. Queen is the Queen.
Queen offspring: G-Litter & I-Litter
VIEW DIEGO X QUEEN PUPPIES HERE & HERE
We have always wanted something super nice from Akino, finding one that was complete and correct in structure, beauty and temperament is difficult, lest alone getting their owner to part with them. Queen greatly meets our requirements to be part of our kennel of exceptional Rottie bitches, her excellence and shear beauty will greatly enhance our already rock solid breeding program, plus her pedigree is very broad and covers a great deal of solid producers and champions.
Queen is line bred on:
Falko v Gruntenblick 3/4/4 Falko is exceptional for bone strength production
Ingo and Iwan v Fusse der Eifel for that incredible body and rib cage width
Queen Offspring
Dt. VDH Champion HD - ED + BH, AD, ZtPR, SchHIII, AD, BH, IPOIII

O-BJSgr'95, SchHIII, IPOIII, AD, BH, ZtPR Gek bis EzA HD+/-

SchHIII, FH AD. Gek.b.EzA ZtPR, HD-

WJSgrn '92, KJSgrn '92 SchHI, AD, ZtpR , HD-

BJS'96, O-KJS'96, BH, ZtPR, SchHIII, HD+/- ED-

INT/DT.VDH-CH, O-BJS'93 SchHIII, FHII, AD, BH, IPOIII, Gek, HD+/-

WJSgrn '92, KJSgrn '92 SchHI, AD, ZtpR , HD-

Italian Ch, IntCh, Social Ch 1994 -1996, Reproducing Ch, Best Group Reproducing R.C.I 1997-1998, ZtPR, SchHI, HD-

It/Int/San Marino/Rip Ch, WJS, SchH III. HD-

Freda

Champion Reproducing

Italian Ch, IntCh, Reproducing Ch

SchHIII, AD, ZtPR, HD-


IntlCH, SchHI, BH, HD+/-

Home / About Us / Rottweiler Males / Rottweiler Producing / Rottweiler Breeding's / Rottweiler Litters / Rottweilers For Sale / Rottweiler Photo Gallery / Testimonials / Rottweiler Links / Rottweiler Information Articles / Contact/ Sitemap
"Using the Best To Make The Best"