Serbian
Rottweiler
Import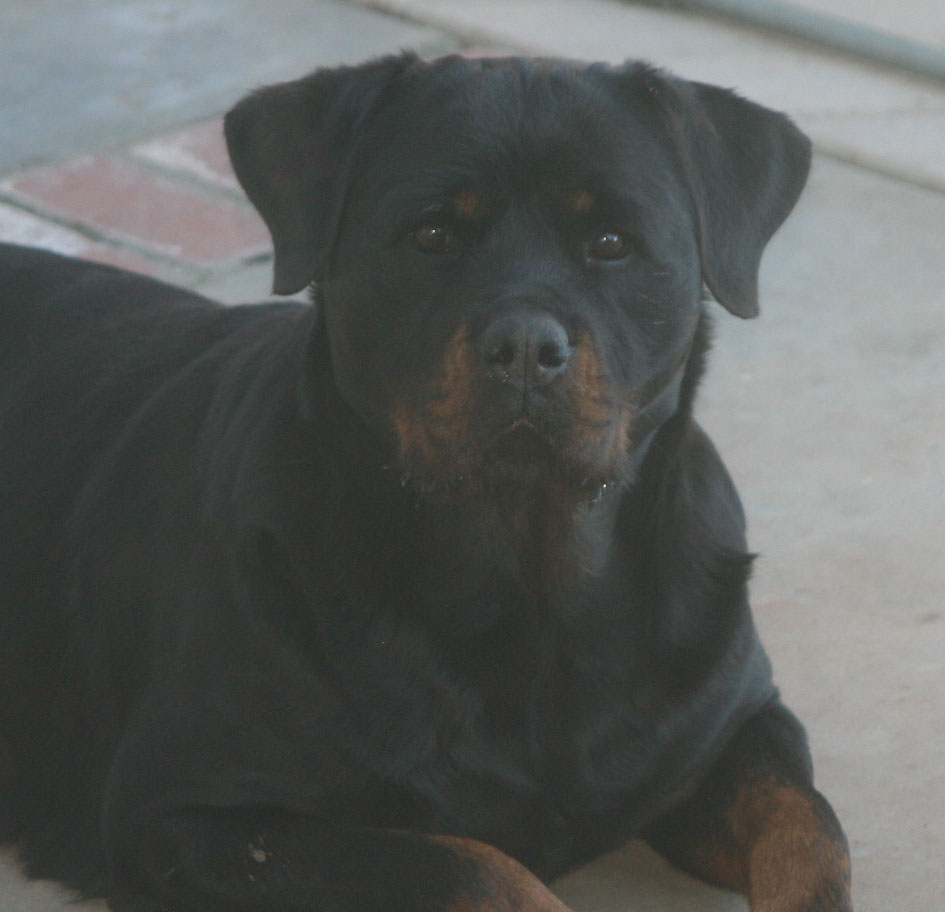 (Click On Picture For More)
HD+\- ED+\- Top Serbian Import Multi V1 Rated
United States Rottweiler Club North Western Regional Youth Siegerin
Show Results
| | | | |
| --- | --- | --- | --- |
| Show | Judge: | Class: | Evaluation: |
| CAC Novi Sad | Lajos Vidak | Open | V2 r.CAC |
| Rovinj Specialty | Anton Spindler | Open | V1 CAC |
| CACIB Subotica | Gere Tibor | Open | V1 CAC r.CACIB |
| USRC NWRSS | Anton Spindler | 18-24 | SG1 NWRYSS Siegerin |
| BARK | VD Casteele | 18-24 | SG2 |
| IERC | Edgar Hellman | OPEN | V |
CRITIQUE: HERR ANTON SPINDLER ADRK USRC NWRSS 2005 DIXON, CA
Scissors bite, sufficient mouth pigmentation. gums partly spotted, tall, strong built, alert, short muzzle, dark eyes, little bit loose lips, strong skull, correct ears, nice full chest, strong shoulders, little bit long back, correct angulated front and rear end, deep and strong muscle on the rear end, short coat, brown markings, muddy on the chest and the feet. Free space winning movement.
CRITIQUE: DIRK VANDECASTEELE FCI USRC BARK SHOW 2005, TURLOCK, CA
Twenty two months with complete scissors bite, good type, strong type. Medium set well carried ears, dark brown eye. Strong, correct neckline and good top and bottom line. Straight forearm, pasterns need to firm up. Slightly long toes in front. Brown markings impure in front and should be much better defined on chest. Good, strong chest width and forechest depth. Good movement, very good movement, good reach and drive.
Naja (pronounced NAYA) Earl Antonius was acquired from Ljuba and Slavica Latinovic of Earl Antonius Kennels, Yugoslavia. When Naja was being purchased by us, she was just starting her show career and what a start it was! Naja, accompanied by her sisters Nora and Nera, headed out onto the show circuit. Naja showed herself to be the true competitor, besting not only her sisters but, many of Europe's best up-and-coming. Naja competed out of the Open Class at the age of 15 months, quite a feat considering she was the minimum qualifications for her class; winning eastern europe's largest Rottweiler Specialty Show in the Open Class....... impressive performance.
Naja excels in the show arena, it takes but one look to see that she greatly enjoys competing. Her attention span upon baiting is a true pleasure, she freezes and requires the minimum in leash control, always a very upbeat and happy dog. At the gait, Naja is untouchable. She covers so much ground and at such a fast pace, inherited from her father International Champion, SCGJ/SCG/BIH/VEJ-Ch, Vice Europa Young Champion, Orlasieger 2004, Benelux Winner 2004, Alberta Sieger 2005, Canadian Sieger 2005, Argentina Winner 2005 Gonzzo Earl Antonius. Naja won her Siegerin Title while being handled by her owner, whom had never shown German Style before; proof that she is an incredible female in the show ring. Naja is undeniably the best Gonzzo female offspring in North America, no other female has her extreme type, beauty, movement, ring presence or the high caliber show wins. She definitely is not like the typical Gonzzo daughter he produces; she greatly resembles her Grandfather INT/YU/BIH/BUL-CH Atos v. Kalacberg SchHI, IPOI. She stands currently at 64cm and 47.5 kg/105 pounds show weight.
Naja is a very tall female, but is very proportionate. Her temperament is pleasurable and very robust in energy, much like a child in wonderment every time she explodes from her crate. She has a wonderfully powerful headpiece; very broad with large powerful cheeks, lots of eye fill and a broad, short muzzle. Her topline is tight with a very broad, tight back. She has a massive chest, heavily muscled with a rear end that equals it; long, thick thigh muscles that bulge outwardly. Her top/bottom lines are impeccable. Naja is an incredibly beautiful bitch, very flashy, powerful and intelligent. Naja is truly unique in her type, nothing else is like her. Though the breeding has been repeated numerous times, only one Naja 'type' exists. She definitely stands out around the many, many times the breeding has been repeated. Every show garners her a lot of attention and admiration, she truly is a cut above and replicates her father. Naja is like no other, she has done her father and mother very proud.
Naja's first ever breeding was to USRC National Sieger 2006, DT.VDH-CH, Westfalensieger, Schonster Rude & Lech Shau Sieger 2006 , V1 BOB CACIB Paris, V1 BOB CAC Freidrich Berger Show, Heidesieger 2006, Multi CAC, CACIB Herbie v Gruntenblick VPGI, ZtPR, BH. Naja proved beyond all reasonable doubt she posses the excellent genetics by producing two wildly incredible offspring, WCR's Diego & Dallas vd Tal. These two possessed an incredibly mind boggling size and powerfully extreme type.
We would like to say "Thank You" to the Latinovic's for allowing us to acquire Naja, she has proven herself to be everything we had hoped for. Naja has no equal.
Congrads to Naja's sister Nera Earl Antonius for producing the I.F.R. YOUNG WORLD WINNER `07 + THE BEST YOUNG DOG IN SHOW
Naja is powerfully line bred: Beni 3/4, F-Litter Wolfert Turm 4/4/4/4, Doc vd Teufelsbrucke 5/5/5/5/5/5/6 (including F-Litter Teufelsbrucke), Noris v Gruntenblick 4/6, Gil v Burgthann 5/6/6/5/5, Chris v Obergrombacher Schloss 6/6/6/6/6/7/7/7.
Some of Naja's Offspring